Manifesto, Voice & Tone
Epic Quests
Who am I? What do I want?
Often it's necessary for companies to ask Stanislavsky's questions, to fundamentally reframe a brand around a critical change, and imagine the world anew.
Developing a vision for the future and imagining all the details and pathways to achieve it is hard work.
It propels crucial transformation and organizational growth, and requires a world-builder's thoroughness and an artist's eye.
Case Study: Finding Farm Spirit with
DIG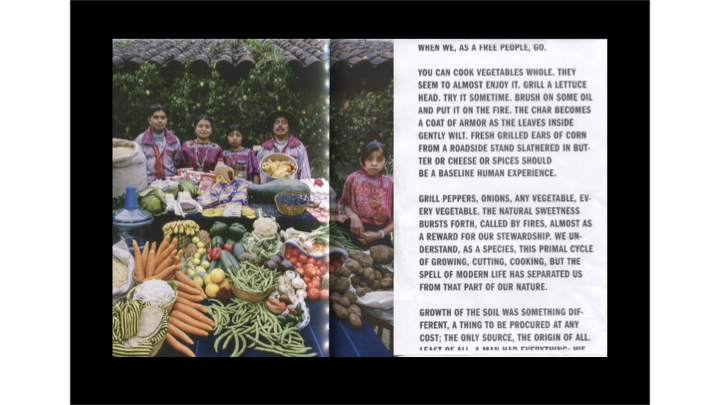 Challenge
With rapid expansion, a $15m investment from Danny Meyer's Enlightened Hospitality, and a renewed commitment to rebuilding our food system, beloved New York fast casual chain Dig Inn needed a stronger, more stable foundation.
Together with Brooklyn-based creative studio Art Camp I conducted a brand voice and tone exercise and wrote a brand manifesto. This initial work helped fuel a full visual redesign anchored by a new identity and brand system but fully-loaded with words, description, and feeling.
DIG's emergence represents an expanded vision: from a legacy of healthy, fast, filling meals to broader food justice through employment and training, supply chain impact, and agricultural operations.
Approach
The work took two parallel tracks: a research track and an exposition track.
The former gathered evocative language that mirrored Art Camp's initial visual and verbal direction. The latter was mostly writing poetry about broccoli and soil cultivation.
The tracks converged in adding flavor to Art Camp's sumptuous brand guidelines.
Impact
DIG's transformation is in process. It's expanding to new cities, opening new restaurants, building a delivery platform and more.
Here's what founder Adam Eskin has to say about how the renewed focus and mission allows the company to become:
"In short, Dig has become more than a restaurant. It's a shared belief that access to good food — picked recently enough to enjoy its full set of nutrients, carried only as far as it needs to, grown and cooked by first names, and priced to feed a neighborhood — shouldn't have to be a movement, an ethos, a privilege, or even a doubt. So, today we're making a transition that reflects the full scope of our ambitions by officially changing our name to Dig."
DIG's new manifesto now graces the doors of the headquarters reception area.
Food & Wine called the DIG redesign an "ambitious rhetorical pivot" in "The Decade We Learned Where Food Comes From" retrospective.
2018 - 2019